I spent the weekend at Bathurst (about a 6 hour drive from where I live) as a friend of mine very kindly made me a gift of a ticket to the Repco Bathurst 1000 V8 Supercars race. This is one of (maybe
the)
biggest annual motorsport event in Australia, on the iconic Mt Panorama track and this was the first time I'd been.
Truly massive event, completely different to the state and club level rally events I'm familiar with. After a few days of sorting through a couple of thousand images from two cameras ( !) I've posted about 100 pics all up on facebook for my car club friends (and a few photographic friends) to squiz at.
Now I feel like I can start to relax and give a few select images more consideration...
I find this shot rather funny, although it possibly needs a little context.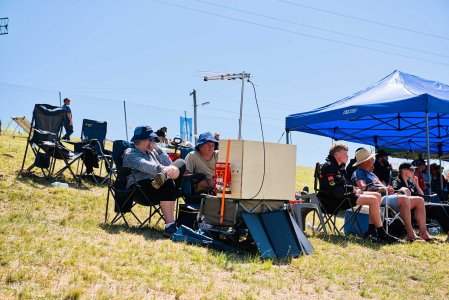 They're sitting overlooking the racetrack, with the race cars thundering past up the hill about 50m in front of them. And they're watching it on a TV-in-a-box.
Now, I do actually understand why - you get to see all the bits of the track you can't see (without binoculars), the commentary and timing. Quite a lot of people had a TV running.
But it just looks hilarious, visiting an event, then sitting there watching it on the screen. Appeals to my sense of humour....
What do you think?