I got this Mamiya 6 just over a week ago, a camera I've always wanted. It came with three lenses: 50mm, 75mm, 150mm, all in good to excellent condition. I wanted to put a quick test roll through it in case there were any technical problems with the camera and lenses, however, I only had three-years-old Portra 160 which requires good sunlight. It was a dull day...
The good news is that all 12 shots were well exposed and in focus, but the colours are dull due to the old film and lighting conditions. But the main test was the hardware, and that seems to be working perfectly.
Here are a few of the test shots - not at all my usual stuff, but I just rushed through our High Street in five minutes or so. The film was developed by A+M Image in Edinburgh, which boasts a 'Dip and Dunk' process for all film:
https://amimage.co.uk/pages/film-processing-1
They also sent me their highest jpeg scans, giving 6MB to 8MB images, dimensions: 3637, and resolution only 72 - I would have had the latter at 300. I'll ask them about that.
I haven't edited these at all, other than reduce the size to 600mm.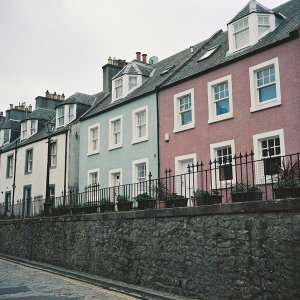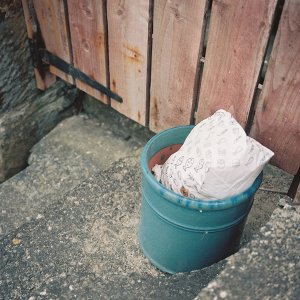 The next is a 'Wedding Stane' there was a tradition of getting a wedding commemoration stone when you moved into your first house. The date is split between the start and end of these stones, 1750:
This last one I edited a little by boosting the colours to get the red looking like it does to my eye:
Conclusion: the camera works well. With fresh film and good light, I think we'll get along nicely!