Although there were a few small heaps of old textile lying around on a couple of the floors in the main production building, it wasn't until we reached the top floor that any significant quantities were found. They were lying scattered and in piles at one end of the hall and at some point they must have been set alight although they were only burned at the ends and edges. This gave them a rather strange appearance, almost as though someone had outlined them in black. More disturbing still was that they looked like bodies swathed in cloth, especially in some of the side rooms when they were plied higher.
Leica M10 + 35mm Leica Summilux f1/1.4. ISO 200, 1/30s at f/8. PP in LR and Nik ColorEFEX 5.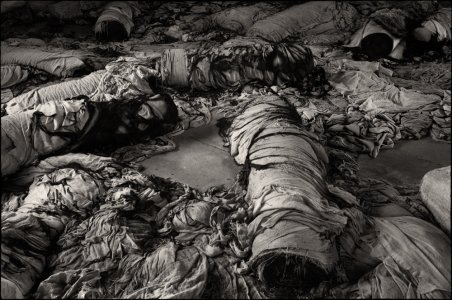 Leica M11 Monochrom + 35mm Leica Summilux f1/1.4 V2. ISO 400, 1/60s at f/68. PP in LR and Nik SilverEfex 3.