I've been shooting old out-of-date film with the Konica Hexar. This was originally Portra 400, but the colour was rendered so extremely poorly I was pushed to rendering them in b&w in Exposure 7, with a Polopan emulsion setting.
Let me talk you through them:
1. A View With A Room - me lazily lying on the couch. This is what I saw. There was no attempt to choose a satisfying balance, but nonetheless I am satisfied with the balance!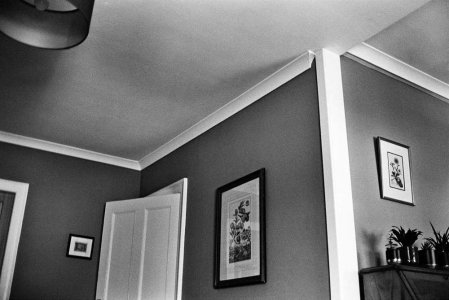 2. The Chip Shop Scandal! - The lower half of this building belongs to the chip shop. The woman on the top floor tried to persuade the chip shop owner to contribute to a paint job, but he refused. So she embarrassed him by just getting her floor painted. Everyone knows. See how exciting life can be in a small seaside town?!
3. One of those type of plants - in our back garden. When shooting this in colour, I wish I'd had a b&w film in the camera...
4. The Gardner, Landlady and Wife on the 'pletie'...